Amidst the hype of smaller fashionable cameras & useless innovations, some little gems actually came out that are worthy of small-time admiration.
Except for being relatively small so we can carry them everywhere all the time, small cameras are a blessing & a curse rolled into one. What was once the pundits of street photography, is now a carry-on gems of Britney Spears & Paris Hiltons alike, the cigarette pack sized picture taking device has become and indispensable toy of modern urbanites.
I used to argue that manual focus cameras are going to disappear, now I know how wrong & narrow-minded I was with such a blunt claim; after spending sometime with auto-focus high end DSLRs, speeding cars & classic giants, I can now put to rest my fight against old-school legends and embrace their existence as part of the drive for the future of imaging technology & camera development. I also argued not so long ago that innovation has dried out, camera-makers has lost their touch with reality and started introducing features in their distorted reality (projecting cameras, talking printers, smile-detecting camera that doesn't always work)
As much as I love my Canon (or my friend's Nikons), I can always find a thing or two that falters my compassion about them, and as someone famous once sang it: 'You can't always get what you want'.
Just last week, Canon introduced a few high-end compacts to replace their retiring champs: Canon G11, and Canon S90. After the Ricoh GRD II/III, Olympus E-P1, they are—to my opinion—are their closest contenders of being relatively small enough yet capable of taking good pictures. I'm going to leave the Canon G11 alone, since we are talking about cameras that are small and capable; and I have had my share of thoughts about the Ricoh GRD III & Olympus E-P1, so let's have a look on the new PowerShot S90 from Canon.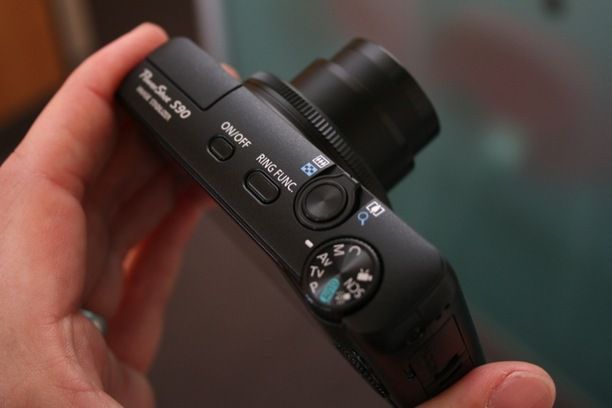 Click image to jump to pocket-lint gallery
What's cool:
Look at that design, it's black, it's tiny & it's so neat it's almost Apple.
28-105 equivalent optical zoom lens—you can snap that hot-looking boys & girls in the mall without being noticed.
At f2.0 on its wide end, along with its Low Light mode you can finally take a usable group shot with your hands from the dance floor, the Dual Anti-Noise system should help busting that broken grainy looks into silky smooth picture.
The Optical IS (Image Stabilizer) used in its far end of 105mm @f4.9 means you still can snap that hot-looking boys & girls up close without that double vision of blur.
28-105 means awkward motor movement, but behold: lens control ring—finally I can tell my dad to retire his Rolleiflex for good.
The control ring is a smart customizable control (blessing or curse?), not only it does zoom, but with the click of a button you can switch to jump between popular focal lengths (28, 35, 50, 85 and 105mm equivalent), shutter-speed, aperture, exposure compensation, ISO and more controls (needs further assessment).
The not-so-big sensor is actually a low-light marvel, this time they decided to focus on sensitivity rather than megapixel count. (Finally!)
Finally someone figured out how to design a cool-looking camera case that we will use. (see inset below)
Full manual control with RAW output!
What's not cool:
No hot-shoe to attach any external flash or remote triggering device. Built-in flash (though it pops up straight) signals: 'My sensor's still not good enough, use flash to illuminate dark scenes.'
SD card only storage, no CF slot to accommodate the big brothers
Ring function button is utterly similar to the on/off switch, let's hope we won't accidentally turn off the camera after 1, 2, 3.
Video capture limited to 640 x 480 pixels, our HD capable flat screen TV is officially useless.
It will cost more than $400 when it hits the shelves next month, you can get a pretty decent DSLR kit with that kind of money.
The best camera is the one with you; the truth is neither phone-cams nor the smallest DSLR will go everywhere with us, it's either too big or not good enough, but this one is actually the one camera that I would take wherever I go, whenever I want it without feeling lazy, I grow accustomed of pampering my shoulders in my personal time that even a slight hint of weight would throw my mood off the chart.
The fact is, room for innovation is getting smaller and smaller now, besides cosmetic improvements, better sensors and better image quality, we won't see much a space-rocket invention any time soon, the time has come now where photography has become an industry rather than art, where profitability triumphs beauty. So if you're on the market for a new camera, you might wanna check this one out.
ps. if you are wondering what Com-Pion is, it's a word that I coined: Compact Champion.
—
update:
A note about the Low Light scene mode, this new camera comes equipped with a 10.0 Megapixel CCD sensor, I'd assume it would be CMOS, and I was wrong. Canon's current DSLR lines, as well as some recently introduced High-end digicams have been produced with CMOS as their image capturing centerpiece, this is a definitely a surprising move from Canon:
The PowerShot S90 employs a newly-developed, 10.0 Megapixel High Sensitivity System by combining a powerful CCD sensor and Canon's DIGIC 4 Image Processor. Thanks to this technological advancement, the S90 is dramatically more sensitive than cameras with identical megapixel counts, and delivers spectacular images with minimal noise. Increased sensitivity demands a higher ISO speed, and the PowerShot S90 delivers with a new maximum setting of ISO 3200. Blur and camera shake are notably reduced for the ultimate in sharpness and clarity. In addition, a new Low Light mode lets you capture images in an astonishing range of conditions. The camera automatically adjusts the ISO speed from ISO 320 to ISO 12800 in relation to ambient brightness, subject movement and camera shake.
Jump to PowerShot S90 Official Homepage for some sample shots & more details.
Further reading:
The Canon S90: Old Champions Brought Out of Retirement (The Online Photographer)
Canon PowerShot S90 hands-on (dpreview.com)
Canon PowerShot S90 Gallery (pocket-lint.com)
Canon PowerShot S90 Specification (dpreview.com)